| | | |
| --- | --- | --- |
| By Justin List | Article Rating: | |
| June 26, 2012 01:27 PM EDT | Reads: | 5,147 |
Why Apple will kill it in the TV market.
If we consider the recent news of TV manufacturers like Sharp , Samsung and Sony they are all having trouble making money in this space. Samsung , arguably the largest panel maker has divested it's TV arm as a $7 billion business. Sony has lost money for 8 straight years and LG can only manage 3% or so in it's latest year. So why would Apple launch a product into todays market. The TV consumer is now trained to wait 6 months for prices to fall on the latest products, and the market is saturated for displays. Moreover consumers see little reason to update to 3D TVs early.
However Apple can do something different. They can make money on this. Lets look at the Apple magic. I am not talking about their design but in this case the ecosystem they can build the TV in. They can differentiate on Users Experience, content and price  (increase to themselves).
Lets take a 50 inch TV. The cost of a panel is much less than half of the cost of a TV. A typical LCD panel may cost around 250-300 to make. More for a higher spec AMOLED TV etc. The point is this is not 25% of the cost of the TV but significantly less. A typical new high end tv (as Apple won't sell it cheap) costs $1200-2500 to buy . But consumers are more likely to buy after 6-12 months when the price halves for that same TV.
Retina Display quality TV coming?
Here's how Apple will differentiate. They pick a top spec screen, Perhaps Retina quality scaled up. Could be 4k If you scale up the Macbook Pro screen to Retina size you would be there which is 4096 * 3072 resolution. So they have a headline grabbing screen. Next up comes the User Experience. Simple. They have the IOS and Siri. Siri becomes the main controller for the TV and it's functions. They can use any modern IOS device as a physical controller for a smart controller. Those iPads make killer TV controllers. Next up they make it smarter. By linking info on the iPAD to the TV display (like the Xbox smartglass concept).  Each TV also can tale any apps via IOS that's embedded. Each screen has a built in camera for Facetime support. Samsung et al can match the spec but every iPod touch and iPhone and iPad will be able to be a recipient for it. So this gives them instant reach in the video calling market. And Apple make it simple.
Siri powered TV. This is also your remote.
So you have a fully interactive UI, multiple devices sharing info with the TV and fully connected and App aware. So far so good. But Apple are building on the legacy of 4 billion app downloads and 400 million IOS devices. They already have it in place.
Then here's killer, content. Apple already have lots of content distribution via the iTunes store but they need more. That is why they introduced the iCloud concept. You can now stream your own music to your Apple TV. And all the self created content like your photos etc. Move and music rentals on demand out of the box. Everyone already has an iTunes account so the purchasing experience is seamless.
Next comes physical design. In some ways it's the least important. Sure it will look great. But the latest Samsung TVs look pretty neat as well. Unless Apple can somehow make a new design language I don't know if there will be any huge changes here. But it will look great anyway.
So the next is profit. The Apple profit conveyor works like this. You buy a gateway product like an iPod touch . You progress to iPhone you then buy a Mac. But the key is every extension of Apple is increasing your purchasing power in the ecosystem with music, apps, movie rentals, magazines whatever. They make a cut way beyond the hardware costs. I believe the figure is something like $550 for content beyond the price of the iPhone itself for every user on average. That's huge. And each time you move up the Apple value chain you pay more for the device.
The Apple profit conveyor at work.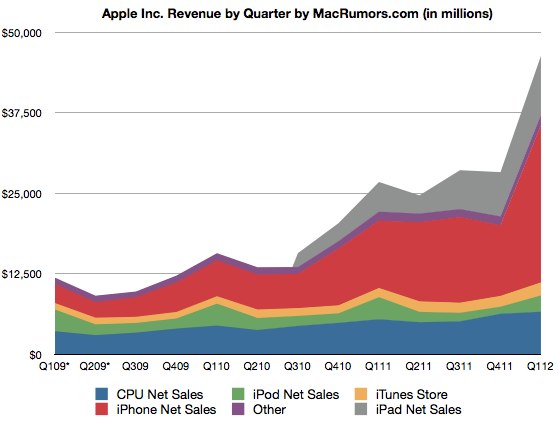 So Apple price next years TV at $2500 and consumers will pay for it. With the design, brand, UX and content it's a slam dunk. You won't wait for it to go down in price because Apple will feel no pressure to do it. It won't be $600 in 6 months but the same price.
I think they'll make at least 40% on it which is a cool $1000. Plus they'll benefit from the content increase that will occur. So your iTV will also  generate the same $500 in content they'll make.  Plus it's another entry point into the ecosystem and you'll be more likely to switch to Mac if you haven't already.
But how can they make it for this price point when Samsung the big daddy can't ? Simple. They have all the parts already and a sophisticated supply chain to put it together.
The Apple TV costs about $64 to make . The iPod touch some $140 to make. The tech to fill the Apple TV already exists and Apple are selling 00's millions of them every quarter. The only new tech is Retina and apple are scaling that enough now.  They can load the Apple TV with an already existing mature OS and hardware stack for no extra cost. No one else can do that. Take the innards of the iPod touch and you'd have enough tech to power the iTV. Also Apple have the supply chain and cash to lock up the market in bulk for it's products driving the costs to the bare minimum. Costs it's competitors can't hope to match.
The final leg of their approach is distribution and marketing. Samsung et al give away 10-20% of margin to stores to stock and distribute the TV. Apple have a ready made killer retail experience to showcase their TV's and sell them retaining the profit for themselves and providing a shopping experience that no one else can match.
Marketing. Apple has a large marketing budget but it's low as a percentage compared to rivals. One reason is the global constant marketing coverage that Apple gets. Look at these trends for Apple Vs Samsung. Samsung makes great products but Apple just is in a world of it's own when it comes to free marketing . Every blog , magazine , newspaper and TV station on the planet will cover the new Apple TV and cover it over a sustained period of time.
Apple iPad vs Samsung Galaxy Tab google trends. Not even close.
Apple get comparable searches for Apple TV vs Samsung TV (I appreciate Samsung will have many names for their tv, but it's a reasonable proxy).
Apple are selling some 1.4 million Apple TVs per quarter vs Samsung 12 million TVs, yet Apple already get as much search time as Samsung.
Apple TV vs Samsung TV google searches (caveats noted above)
With these sorts of levers in place Apple can change the dynamics of the market completely. TV shipments were 50 million in the last quarter and declining . Samsung have 25% of that market and can barely make a profit.
Apple will soon be shipping 10's millions of iTVS and making $1000 in profit on manufacture and hundreds more in content fees after that. It's a money making machine.